Heavy Games
The Heavy Games
History is filled with true warriors, from the Aztecs to the Celts, the Knights to the Soldiers; find out how you measure up as you compete in their shoes. If you think you have the strength and the endurance to brave all the tests our historical ancestors have mastered before you, then step to the line lads and lasses and show everyone the warrior in you.

Farmer's carry, stone throw for distance, and even a caber toss will surely elicit the applause a gladiator deserves. Different from the Renaissance Run, these games can be competed in separately or in conjunction with the Renaissance Run.
Three Competitive Weight Classes Available: 

Male Warriors weighing 200lbs and less
Male Warriors over 200lbs
Female Shield Maidens.
Participants will receive:
Spectator entry into Texas Renaissance Festival Grounds during The Renaissance Run event.
A custom heavy games tattoo.
Entry to heavy games which includes the following: Farmer's Carry, Stone Throw, Weight over the Bar, Caber Toss, and Keg Toss.
A custom Heavy Games T-Shirt. 

Events: Keg Toss: This is a fun event to watch. Each athlete must toss a ~30 pound Karbach keg, varying in size and weight, over a wall or bar. Each athlete is given 3-5 tries to get the object as high as possible. Don't make it and feel the scorn of your fellow warriors.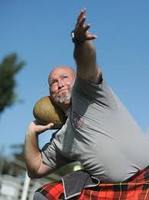 Stone Throw: Feel like a true Olympian with this Celtic version of the shot put! Instead of a steel shot, we're going all stone baby! Cradle this stone and hurl it as far as possible. Stones weight 96 pounds and 49 pounds for male warriors, and 37 pounds for shield maidens. But be careful, you can be ruled foul if you cross the Trig. Don't know what a Trig is? Enter to find out. Oh yeah, and for all the glory and applause from the common folk.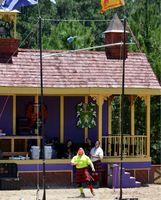 Weight over the Bar: Also known as weight for height, competitors throw this 42 pound weight with an attached handle over a horizontal bar with only one hand. Maximum height achieved is the name of the game with this one. Shield Maidens will throw a 28 pound weight.
Caber Toss: The caber toss is a traditional Scottish athletic event in which competitors, referred to as "tossers" throw a large tapered pole called a "caber." The primary objective is to toss the caber so that it turns end-over-end, falling away from the tosser. There will be three different sized cabers and each tosser will have to successfully toss the smallest caber before moving up to the next size caber. Caber sizes for men will be 15 feet at 85 pounds, 16 feet at 100 pounds, 17 feet at 125 pounds. Caber sizes for shield maidens will be 10 feet at 45 pounds, 12 feet at 55 pounds, and 14 feet at 70 pounds.
Farmer's Walk: Test your true mobility by carrying ancient rail ties as far as you can. Walk with approximately 150-200 pounds/75-85 pounds in each hand for distance. Scores are based on 50 foot increments completed…1 point for 50 feet, 2 points for 100 feet, 3 points for 150 feet, and so on.